Meet our New Executive Director, Michele Roque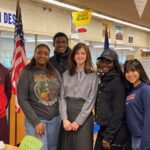 As announced to the Destination: College community Suzanne McCann, our Executive Director who served DC with tremendous commitment and skill since 2014, has decided to step down at the end of this school year. After an extensive search, the Board of Destination: College is thrilled to announce their unanimous selection of Michele Roque to fill the position of Executive Director, effective July 1.
Michele comes to Destination: College with an abiding commitment to its mission to make college a reality for our students. Michele has a deep understanding of DC having been the Program Head for Girls Basketball for three years. This past year, Michele volunteered her time and talents to our Cooney College Center. Michele is a proud graduate of Mount Vernon High School, has a BA from SUNY Binghamton and a Master of Arts in Literature from Mercy College, where she is an adjunct professor of English. She resides in Pelham, NY and her civic involvement is extensive. She is a past president of the Pelham Education Foundation, the Pelham PTA Council, and the Pelham School Board Citizens Nominating Committee, among other activities. Michele also has considerable experience as an executive in the retail industry, working at Polo Jeans and Armani Exchange. We are thrilled to officially welcome Michele to our DC family and to start our next chapter under her capable hands.
Although Michele will officially take her position on July 1, you will be seeing her in the hallways of MVHS for the next few months as she begins to learn the ropes from Suzanne. Please feel free to introduce yourselves and welcome Michele to our community! We will be honoring Suzanne for her many contributions to Destination: College at our June 14 dinner at the Bronxville Field Club. We hope you will join us to toast Suzanne for all that she has accomplished.