March Madness Dreams Come True!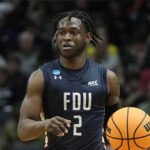 One year ago our Destination: College community was celebrating the Mount Vernon Knights on their NYS Section 1 Basketball Championship win.
Fast forward to 2023 and March Madness took on a new level of celebration for DC! Jeff Cooney Memorial Scholar '18, Demetre Roberts, had a starring role with the Fairleigh Dickinson Knights in a historic upset of #1 seed Purdue University in the first round of the NCAA tournament. While FDU did not move past the second round against Florida Atlantic, Demetre's exceptional skills were on full display as the top scorer for FDU in that game. What a story!
Demetre joined Destination: College in the summer of 7th grade and worked closely with our dedicated volunteers throughout high school to excel academically and meet the eligibility requirements for collegiate recruitment. We are so proud to have been part of his team and for all that he has accomplished.
This short video sharing the arc of his journey from high school, to Division 2 basketball powerhouse Saint Thomas Aquinas, to FDU to earn a graduate degree, to the NCAA tournament, is worth the watch! Click here!