College Knowledge Session is a Success with a Visit from DC Alumni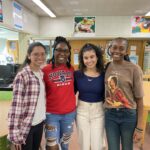 In May, we conducted four College Knowledge sessions for our 2023 graduates. The sessions were led by Linda D'Arcy, Director of College Access, and Laura Amignone, Director of College Success. A few of our many impressive alumni returned to share their personal experiences about succeeding in college. Our alumni chatted for over an hour and provided invaluable advise for our seniors and much gratitude to DC for our support and guidance.
Taylor Bennet:
DC provided me with so much. I remember when I first sought out DC, I didn't know what I was walking into, but this is a family, helping me with financial aid to pay for school, helping me get stuff for my dorm room. Ms. Linda and Ms. Laura help you stay updated on everything …
Paige Loague:
DC sends constant reminders. These are things that aren't right in your face, your peers don't get these reminders, but you are getting the reminder to go do it. Book stipends, they're there for those expensive books. DC really helps, They are genuine good people who want to see you win. Especially if you go away, you may feel on your own, but they are here with you every step of the way, and then one day you'll be up here giving advice.
Leni Marilejos:
DC is a great support system. DC supported me so much throughout my application process, not just with the FAFSA, but actually pushing me to do it – even schools that you were scared to apply to, and help you- even the mentors, they check in with you monthly. I really enjoy having my mentor ask me how I'm doing and talk with them.
Final sum up:
What you wish you knew?
"Going to be ok!" If anxious about going to new school, new environment, it will be daunting, but it will ok – everyone will be as new as you are.
"College is going to be hard, but don't let it break you"
"Don't be afraid to be you; Go on that campus on be your greatest self"